Residency Research
The Emergency Medicine Program at the University of Maryland provides specific opportunities for resident research education from the intern to the senior year.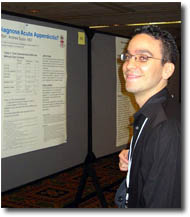 Resident Research Retreat
Each year, the program frees interns from clinical responsibilities and subsidizes their attendance at an annual Research Retreat. This retreat, held during the annual meeting of the Society for Academic Emergency Medicine, follows a structured curriculum and provides a chance to meet with attending research mentors.
Lecture Series: Getting Started in Research
This lecture series, modeled after ACEP's Emergency Medicine Basic Research Skills Workshop, incorporates formal research training into the residency's weekly didactic curriculum. These lectures teach residents how to draft a research question, search the medical literature, design a study, analyze data, apply for funding, and publish results. The lecture series repeats on a bi-annual basis, and individual lecture handouts are available by request to Dr. Witting.
Attending Staff Expertise
A strong point of the residency is the variety of expertise among the attending staff. Our staff includes two physicians who have also received law degrees and others who have passed board examinations in emergency medical services, toxicology, pediatrics, hyperbaric medicine, and internal medicine. Some faculty provide regional courses in airway management and emergency ultrasound. Others have published textbooks in forensic emergency medicine and in interpretation of electrocardiograms. Our faculty members have lectured at national emergency medicine meetings on such topics as congestive heart failure, gastrointestinal bleeding, and oncologic emergencies. If a resident has a research question, he/she is likely to find an attending with expertise in that topic.
Research Day
In June of each year, we devote a full lecture day to research presentations by residents. Held in Davidge Hall, the program includes a grand rounds lecture from a visiting national expert in emergency medicine research, followed by resident research presentations. Past visiting faculty include Drs. Donald Yealy, Rita Cydulka, William Barsan, Jeff Kline, and Michele Biros.
Clinical Research Fellowship
University of Maryland has an Emergency Medicine Clinical Research Fellowship for physicians who have completed residency. The fellowship combines a part-time clinical experience in an affiliated hospital with research education through the Department of Epidemiology and Preventive Medicine. A master's degree in clinical research is available.
Research Mentoring
Three of our faculty have advanced training and experience in research.
Robert E. Rosenthal, MD, is section chief of hyperbaric medicine at the R Adams Cowley Shock Trauma Center. He also serves as vice-chair for the University of Maryland Institutional Review Board. He has received significant research funding from federal, state, and industry sources and has published extensively in the fields of global and focal cerebral ischemia (cardiac arrest and stroke). His particular interests lie in the area of ischemic oxidative damage to the brain and ways to modify this injury through close monitoring and control of oxygen administration. Dr. Rosenthal has more than 20 years' experience in the preclinical study of these problems using animal modeling. He runs an active animal laboratory and extends an open invitation for residents to visit. Preclinical results from his laboratory are now being translated into clinical trials that are in various stages of development.
Jon Mark Hirshon, MD, MPH, is a federally funded investigator with specific interest in developing emergency departments as sites for public health surveillance and hypothesis-driven research in public health. He is the principal investigator on over $1.7 million in federal research grants and is co-investigator on numerous other projects. Additionally, he is the program director of a recently funded grant on Injury Prevention Research Training in Egypt, sponsored by Fogarty International Center of the National Institutes of Health. He serves as a vice-chair of the University of Maryland Institutional Review Board.
Michael D. Witting, MD, received a master's degree in clinical research from the University of Maryland Department of Epidemiology and Preventive Medicine. He has published original articles in a variety of aspects of bedside diagnosis and is a member of the University of Maryland Institutional Review Board. A winner of the ACEP National Faculty Teaching Award, he has designed the educational research curriculum for residents. He serves as Associate Editor for the Journal of Emergency Medicine.